Published by Piper Haywood — Fig & peanut butter thumbprint cookies
Fig & peanut butter thumbprint cookies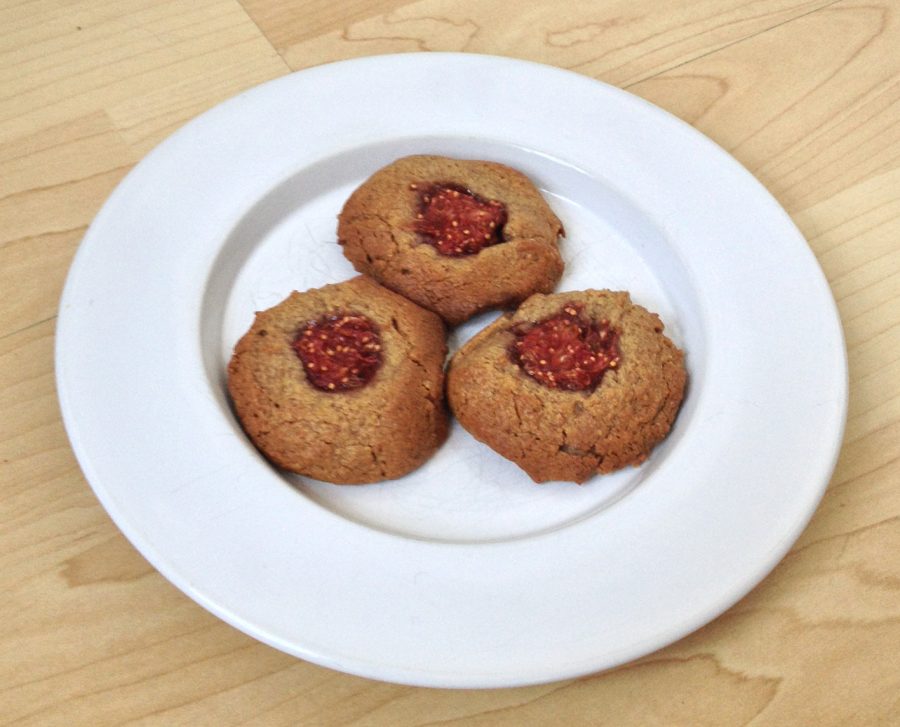 I've made these simple, flourless peanut butter cookies for years but have never thought of putting something in the center. Need to try it with apple butter next time.
Fig and peanut butter thumbprint cookies
Ingredients
260 grams (1 US cup) peanut butter
180 grams (scant 1 US cup) sugar
1 large egg
2 figs (or possibly some sort of preserves)
Method
Preheat the oven to 160 °C (fan) / 180 °C / 350 °F and line baking sheet with greaseproof paper.
Mix peanut butter, sugar, and egg in a large bowl until you have a smooth dough.
Mash up figs in a small bowl. Add a little citrus if you've got some to make it a tad more tart.
Roll the dough in to roughly tablespoon-sized balls and place on baking sheet. They won't spread too much since there's very little fat in them, but do leave a little space for spreading. Flatten slightly with a thumbprint, so that you have an indentation for the fig mixture.
Place a little fig mixture in the center of each cookie. Don't overfill it since it will spread a little bit, and too much wet fig can prevent the cookie from cooking properly.
Place in center rack of oven and bake for 10-15 minutes. 13 minutes was perfect for me. The edges will be a little brown when they're done, but the dough will still feel very soft when they first come out of the oven. Let them cool on the tray for about 5 minutes and then transfer to a wire rack to cool until they've firmed up a bit.
Update 7/10/14 – Whoa, these go really squidgy after a couple days. The regular peanut butter cookie recipe doesn't, it must just be the moisture from the fig. Still really like them, but it's a good thing the fig wasn't more wet.