Made this Caribbean-esque fish tonight, 10/10 will make again. Measurements below are estimations. Serves 2.
I finally cracked it. The madness is in the method. To make good hummus using one 14.5oz/400g can of chickpeas:
---
Put 2 tbsp tahini, 2 tbsp lemon juice, 1 tbsp olive oil, and 1 tbsp water in to a food processor. Blend until fully emulsified and very smooth. Add 1 can of chickpeas (rinsed and drained), 1 clove of garlic, 1 tbsp water, a pinch of ground cumin, and big pinch of salt. Blend to a purée. Taste and add more salt or lemon juice as necessary. Add water to fine-tune the consistency.
Drizzle with olive oil to serve. Garnish with paprika, za'tar, chopped coriander, toasted cumin seeds, extra chickpeas, etc.
---
No messing around with dried chickpeas or peeling (!) legumes. I can make this amount of hummus in the tiny food processor attachment that came with my stick blender. Related, the Super Kim can opener by Nogent is the only can opener that should exist.
Takeaways from a particularly good evening in the pub last night:
And a salad recipe from a great cab driver:
In a large bowl, combine some diced cucumber, diced celery, and halved cherry tomatoes. Add finely chopped wet garlic or green onions (scallions). Toss with olive oil and lemon juice and season to taste. Optional additions include olives, mint, boiled Jersey potatoes, rocket (arugula), or feta. Use apple cider vinegar if you don't have lemon juice.
I have a new favourite cocktail, the Brown Derby. Perfect timing for the UK's first warm(ish) weekend of 2018. ☀️ It's along the lines of a whisky sour, but with less sugar and a little more floral from the grapefruit. It's also crazy simple, you can make honey syrup without heating anything if you use warm water.
To make a Brown Derby, combine 1.5oz bourbon, 1.5oz fresh-squeezed pink grapefruit juice, and 0.5oz honey syrup (1pt honey to 1pt water) in a shaker filled with ice. Shake vigorously, then strain into a rocks glass filled with fresh ice. Garish with a grapefruit twist, or a thin slice of grapefruit against the side of the glass.
Raindrops on roses and whiskers on kittens
Felting needles for invisibly repairing holes in wool
A sturdy, diner-style black mug I long-term borrowed from Bob's at Colby College; the handle fits all four fingers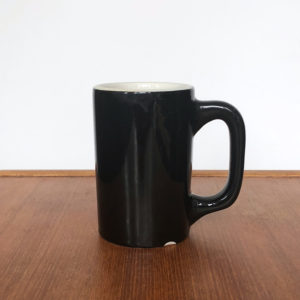 The best & easy
Bake @ 375°F (190°C) 8 min
Cream:
1 c (226 g) butter
1 c (200 g) granulated sugar
Beat in:
Add:
½ t baking powder
1 c (120 g) wheat flour
1 ½ c (188 g) white flour
Use 3 trays. Make a fat rope. Pinch off pieces on to trays. Flatten each 3x by dipping ⅓c measure into sugar in ½c measure. Cool cookies on newspaper.
---
The recipe above was written by hand in to a community cookbook she gave me in 2001. It retains her original wording and formatting, though I have added gram and Celsius conversions.
We miss you so much.
Dökkt rúgbrauð is a mildly sweet dark rye bread from Iceland. Traditionally, it is baked in the ground using geothermal heat. To mimic this cooking method at home, the bread is cooked at a low temperature for an unusually long time, around 8 hours.