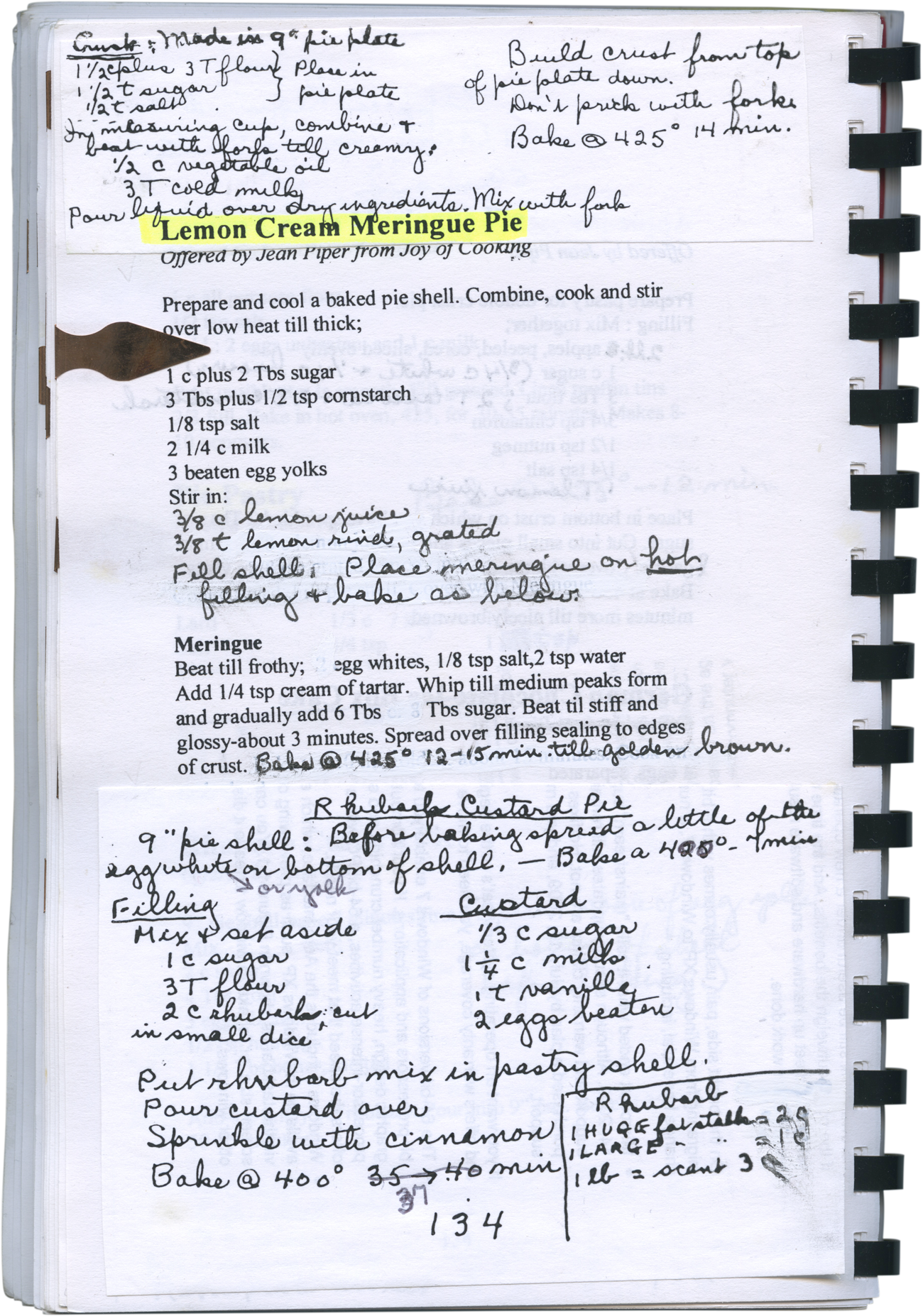 Rhubarb custard pie
From Jean Piper. Use forced rhubarb for the best color.
Preheat the oven to 400°F (205°C). Place a pie plate with a prebaked pie crust on a baking tray for stability.
In a medium bowl, mix:
1/2 c (100 g) sugar
3 tbsp flour
2 c (200 g) rhubarb, cut in to roughly 1/2″ (1.25 cm) dice
Set the rhubarb mixture aside for at least 20 minutes, stirring occasionally.
In a measuring jug, mix:
1/3 c (66 g) sugar
1 1/4 c (295 ml) milk
2 eggs, beaten
Put all of the rhubarb mixture in to the pie crust, and pour the liquid custard mixture over the rhubarb. The pie should be very full. Bake at 400°F (205°C) for 37 minutes. The pie center should still be slightly wobbly when it comes out. Let cool completely before serving.
9″ press-in pie crust
From Jean Piper. Gluten free flour works just as well as plain.
Preheat the oven to 400°F (205°C).
In a 9″ (23 cm) diameter pie plate, combine:
1 1/2 c + 3 tbsp (210 g) flour
1 1/2 tsp sugar
1/2 tsp salt
In a measuring jug, beat with a fork until creamy:
1/2 c (118 ml) vegetable oil
3 tbsp cold milk
Pour the wet ingredients over the dry ingredients and mix thoroughly. Build the crust from the outside in, keeping the crust thin. Remove any extra dough when you reach the center of the pie plate. Brush with a little beaten egg (optional), and do not prick with a fork. Bake at 425°F (218°C) for 10 minutes.
---
It's rhubarb season. The image is a page of pies (one of many) from the La Grange Presbyterian Church community cookbook. The book was heavily customised by my maternal grandmother. I'm hoping to get this and many other hand-written recipes together in an archive somewhere at some point. Here will do for now.
Grandma Piper was known for her pies, and her Lemon Cream Meringue Pie was probably the most requested. Her pie crust was always particularly good. She almost always made a rolled-out crust, but it turns out she had a good press-in crust recipe too.
Her rhubarb custard pie is a new discovery for me, she never made it for the family since none of the adults really liked rhubarb. By extension, none of the kids (me, at the time) had ever tried it. Turns out it's one of my favourite things.
The recipes above are versions of her recipes, with slight tweaks based on my experience when making them. One major tweak is the sugar amount in the rhubarb mixture, 1 c is way too much. 1/2 c may even be too much, might reduce it next time.