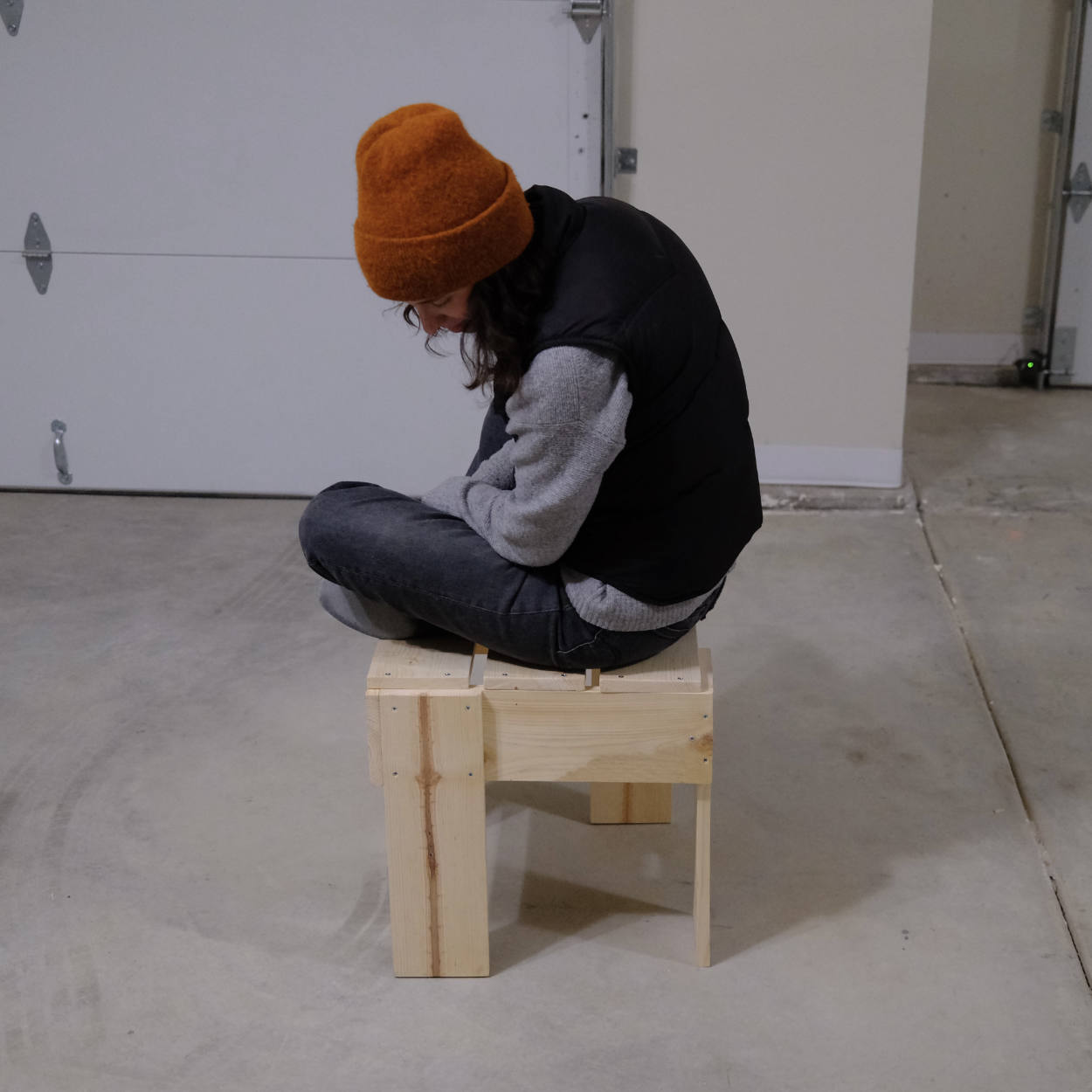 In late February, we made a stool based on Gerrit Rietveld's kratkrukje or "crate stool" designed in the mid 1930s. Skip to the instructions, or skip to the cut list and plans.
We'd been looking for something that could act as stool-cum-sidetable for a little while. Haven't had any luck with secondhand or antique shops, everything we found was too ornate, large, cushion-y, or expensive. And while we're fine with the idea of buying something from Ikea or a similar store, nothing we found felt quite right. Also, the thought of wandering through Ikea at the moment made us a bit anxious.
So having had success with Enzo Mari's Autoprogettazione in the past and buoyed by Hannah's Rietveld crate chair success last summer, we decided to go down the DIY route. Rietveld's crate stools have been on Sam's mind since he saw them in the Radical Nature exhibition designed by Sara De Bondt at the Barbican back in 2009. Those stools were created by Simon Jones of Jones Neville by reusing and cutting down old exhibition panels.
There are a bunch of Rietveld crate furniture photos and designs knocking around the world wide web, but very little relating to this specific stool as far as I can tell. I have a feeling that it wasn't included in the bilingual book How To Construct Rietveld Furniture, but can't be sure since I don't own it.
At any rate, there are a few photos online including this photo from Bibliotheek Rotterdam, this blog post, and a photo of the stools in situ at the Radical Nature exhibition.
According to Bibliotheek Rotterdam:
This stool is known to exist in several sizes. Metz & Co. also sold a table similar to this design. According to Gerrit Rietveld's son, Jan Rietveld, both the Rietveld and Schröder families were involved at one time or another in producing and selling Crate Furniture.
Since we couldn't find plans for the stool, we made our own based on the photos mentioned above. We didn't have scraps to reuse as Jones so elegantly did, so we ended up buying three 1″ × 6″ × 6′ whitewood boards and basing our plans on the most economical use of that lumber.
It's definitely a bit more expensive than a KYRRE stool from Ikea, the materials were a little over $30 in total and of course there's the labor. We did this in a few hours over the course of a few days, but it probably took us longer than it would normally because we were working out the process and tweaking our initial plans as we went. All-in-all it was worth it. It's a satisfying little lump of furniture.
Here are the steps to make one for yourself.