Published by Piper Haywood — 2014 Bloomberg New Contemporaries
2014 Bloomberg New Contemporaries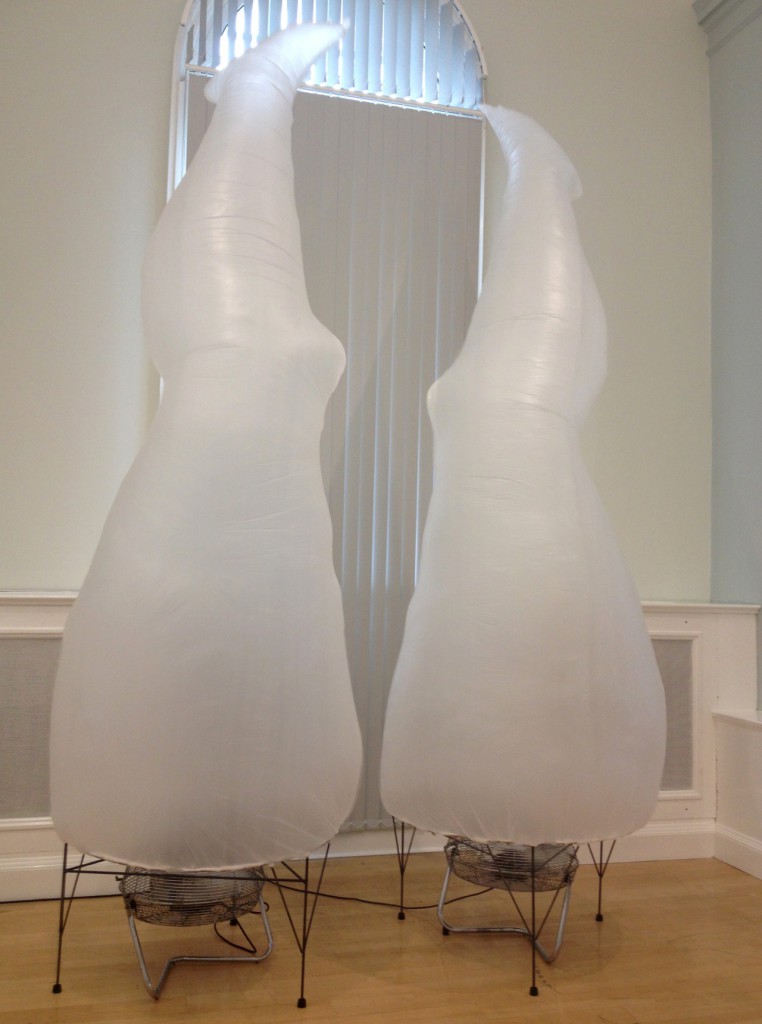 Katie Hayward
Pillars II, 2014
Plastic and industrial fans
Dimensions variable
Took the train to Liverpool recently for the Adrian Henry: Total Artist book launch (published by Occasional Papers, buy it here), and tried to cram in the entire Liverpool Biennial in that one day.
The piece above is part of the 2014 Bloomberg New Contemporaries exhibition in the World Museum and was probably one of my favourite works in the show. Details below the photo (taken on my phone, doesn't do her piece justice). I don't think the artist has a personal website just yet, but there's a bit of information about her here and here.
There was a separate, very loud installation in this part of the exhibition that, IMO, was unfortunately presented. I don't mind loud sound installations, but the positioning didn't seem carefully considered in this instance. Sound travels far and fast in those cuboid, hard-surfaced rooms.
The piece was a bit of an assault on the senses, and it seemed unfair for the artists with more delicate work in the gallery space. It's fine if it's the curator's intention to juxtapose such pieces as part of the exhibition concept, but it seemed like a strange decision for a group show that doesn't really have an overarching theme. Even caught myself dismissing the loud piece out of frustration, even though it actually was pretty neat when viewed on it's own!
See Rana Hamadeh's installation as part of A Needle Walks into a Haystack on the top floor of The Old Blind School for a loud, in-your-face sound installation that is very well presented and makes a real impact.
I thought it was some of the strongest work at that venue. It's very eerie to walk around such a dilapidated building and hear this deeply resonant sound grow very slowly as you climb the stairs floor-by-floor. By the time you reach the top, the sound contained in the installation space is actually physically intimidating, but you are compelled to enter and find out how "big" the sound really is. Despite its overwhelming presence, it didn't detract in any way from the many more delicate pieces in the building and was a great addition to the exhibition on the whole.
That's my two cents anyways.
The 2014 Liverpool Biennial is worth checking out. The signposting this year isn't super extensive, so it's best head to the Bluecoat first for a nice coffee and some guidance to plan a route around the exhibition spaces. It's on for another month, 'til October 26.