Published by Piper Haywood — A few days in Ceyreste 🇫🇷
A few days in Ceyreste 🇫🇷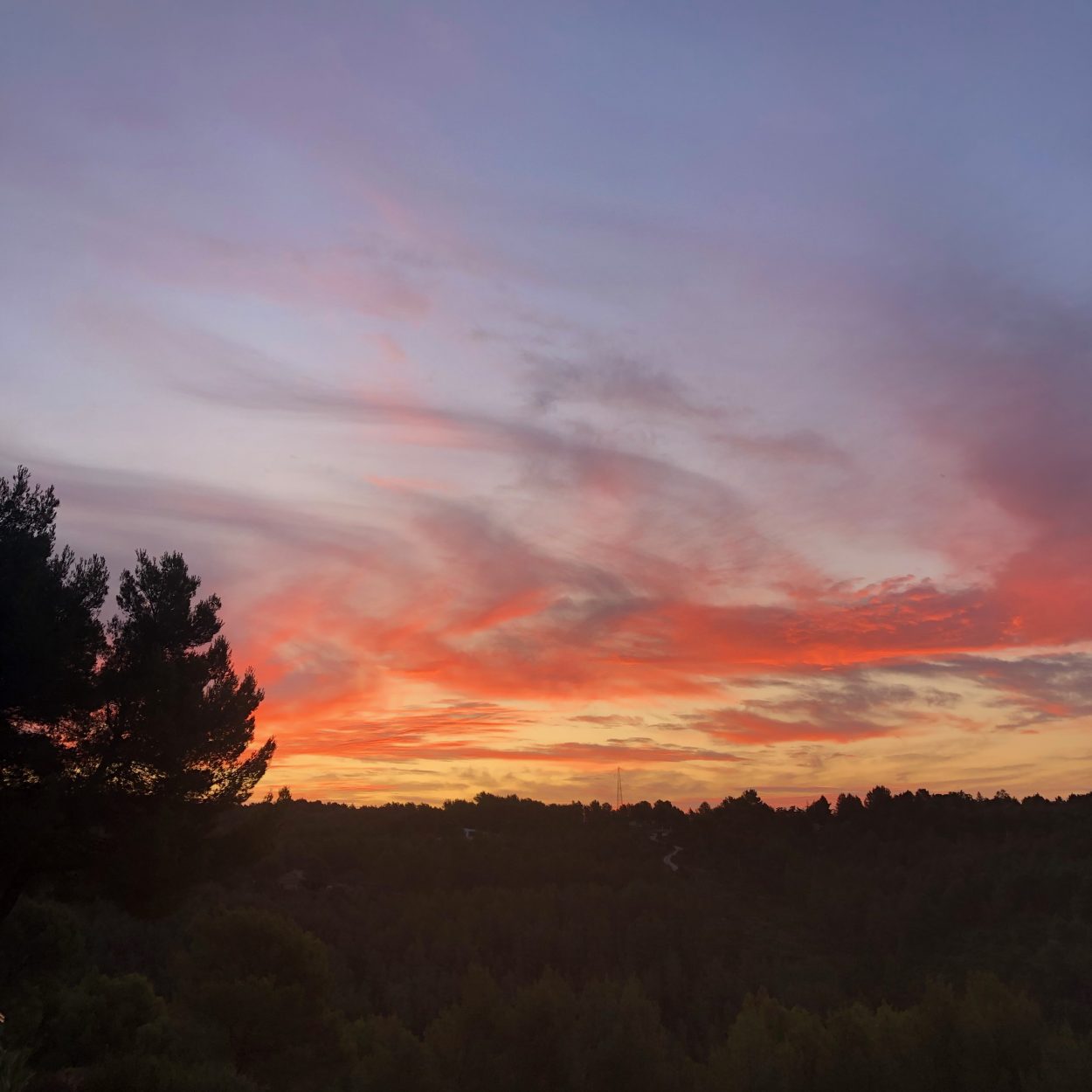 Spent a few days in Ceyreste (FR) recently with new and old friends to celebrate our dearest GC's 30th. Lots of good food, time in the sun, swimming, etc, just what the doctor ordered. These are a few things I'd like to remember.
---
Calanques national park is beautiful. It can also involve some serious walking. I'm glad we brought a proper map, glad that we'd brought enough water between us, glad that we'd just missed peak tourist season, and really glad that GC bought some snacks!
We drove to Cassis and parked as close as we could to Calanque de Port Miou towards the west end of the town. This ended up being the metered parking on the corner where Avenue Révérend Père Jayne turns into Avenue des Calanques, the rest of the way down to Calanque de Port Miou was marked "sauf riverains" or residents entry only. After that we walked down Avenue des Calanques till we hit Port Miou, then we walked southwest on the main gravel path marked white/green/red running parallel to the calanque. We paused where the white path looped north and the green/red path continued southwest, and that's where LM and DP peeled off with the littlest one in the buggy to head back in to town along a reasonably flat path.
The rest of us continued on the green/red path to Calanque de Port Pin which was slightly rougher going. The rocks got particularly slippery right before the beach. We paused at Port Pin for a swim and to wait for some later arrivals to join us. The water was beautiful, and chilly! It was sunny, but the heavy wind probably contributed to the chill.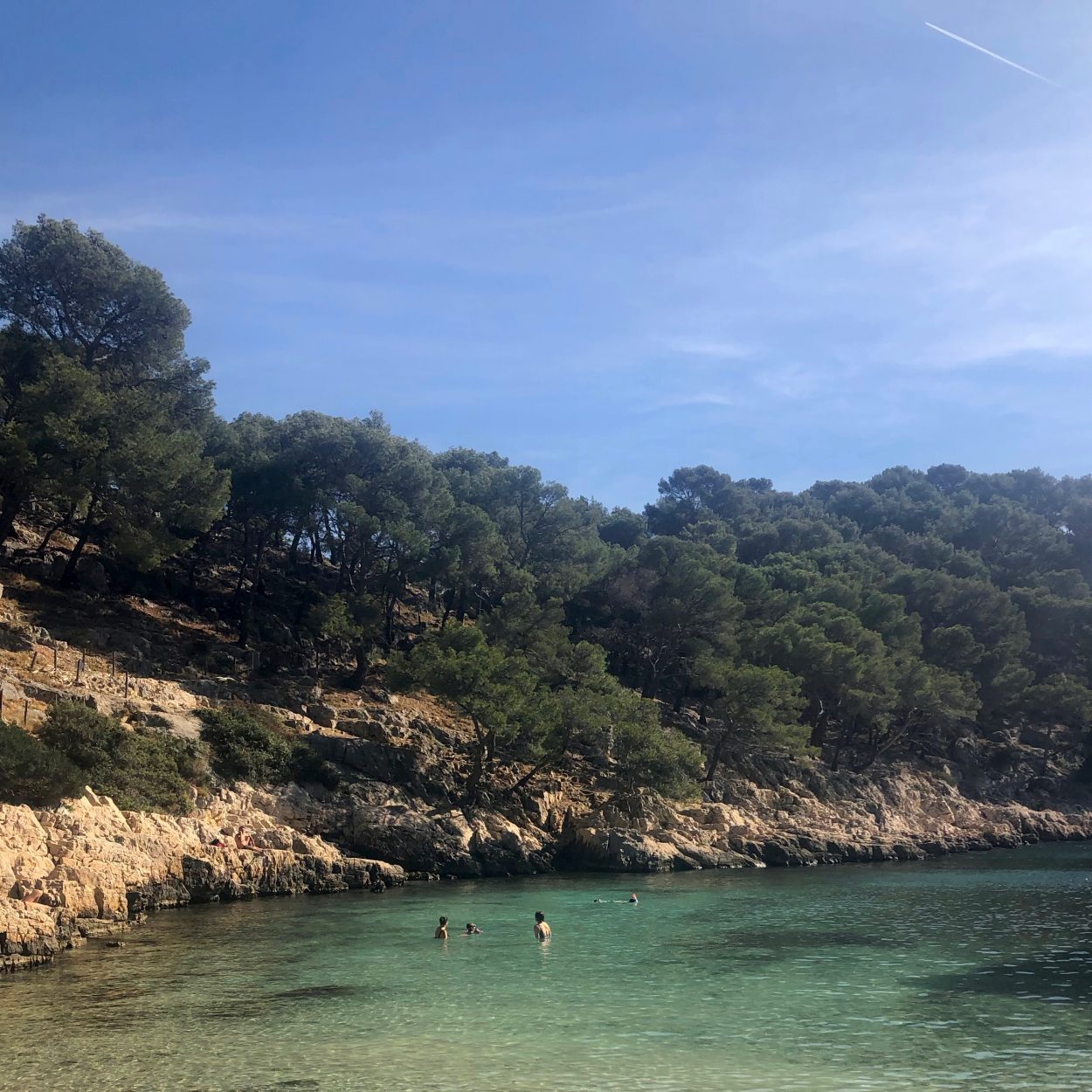 After Calanque de Port Pin, KB, SC, and their little one headed back to Port Miou on the white path heading north. The rest of us headed uphill on the green/red/blue path just as some dude with a carbon fibre alphorn showed up… The going was slightly rough but not too bad. The top of the hill was a sort of crossroads with another path running flat along the ridge. It marked the beginning of our descent towards Calanque d'en Vau.
The sign at the crossroads indicated tough terrain, and the path was marked with "danger dots" 🔴🔴🔴🔴🔴🔴 on the map. It was rough, incredibly steep and involved a lot of shuffling around on your butt. It was also super windy. We eventually reached the bottom unbroken and joined a reasonably flat white path leading the rest of the way to Calanque d'en Vau. A 4×4 ambulance blasted past us on this stretch, apparently some hikers had tried to go up the steep cliffside of the calanque and got in to a sticky situation. Unfortunately we got to the beach too late in the day for any sun, but we took a chilly swim anyway. Tons of fish! I'd love to come back to go snorkelling, I'd probably take a different path in though or at least wear much sturdier shoes.
To get back to where we had parked, we had to head back up the danger dots path. It was daunting but way easier going up. We then took a left at the crossroads to head north on the level white/blue path. When we hit what I think was a church, we took a right on a descending white path heading east which merged with the brown/yellow path about halfway down. Eventually Port Miou came in to view, and then the path switchbacked down to where we started.
---
Learned about a few new cocktails from the masters themselves. Boulevardier = 1 oz bourbon + 1 oz Campari + 1 oz sweet vermouth w/ orange peel to garnish (basically a Negroni w/ bourbon instead of gin). Paper Plane = ¾ oz bourbon + ¾ oz amaro + ¾ oz Aperol + ¾ oz fresh lemon juice. No amaro to be found at the hypermarchet sadly, but they still gave it the old college try and it was pretty tasty.
The ultimate moderator also led us in Werewolf, a game that was new to me. We played a simplified version w/ just a werewolf and a doctor which was perfect for a big group of beginners. It's pretty similar to Mafia w/o cards.
---
The plants and landscape in Provence reminded me so much of southern California, and the dry stone walls along many of the smaller roads reminded me of Yorkshire.
There was wild rocket along all the highways just outside of Marseille, but unfortunately not where we were staying. There were a bunch of strawberry trees around the house and a lot of thyme and rosemary which was super useful for cooking. In retrospect I think there might have been savory as well, but I'm not totally sure what that looks or tastes like.
Not sure if I encountered many mosquitos outside but we definitely had 2–3 trapped in our room. I have some gnarly bug bites.
---
There was so much good food. Definitely glad I remembered lactase pills because it would have been super sad to miss out on the cheese and NB's excellent carrot cake. Will definitely be referring back to that recipe, particularly since it works well with GF flour as well. And pizza! The place had a pizza oven which was excellent, particularly since the two Italians in the group were kind enough to lend their brains to the operation. Dinner on the last night was a use-up-all-the-things meal, see recipes / descriptions.
---
It had been far too long since I'd seen so many of these people.