Published by Piper Haywood — Thanksgiving 2018 notes
Thanksgiving 2018 notes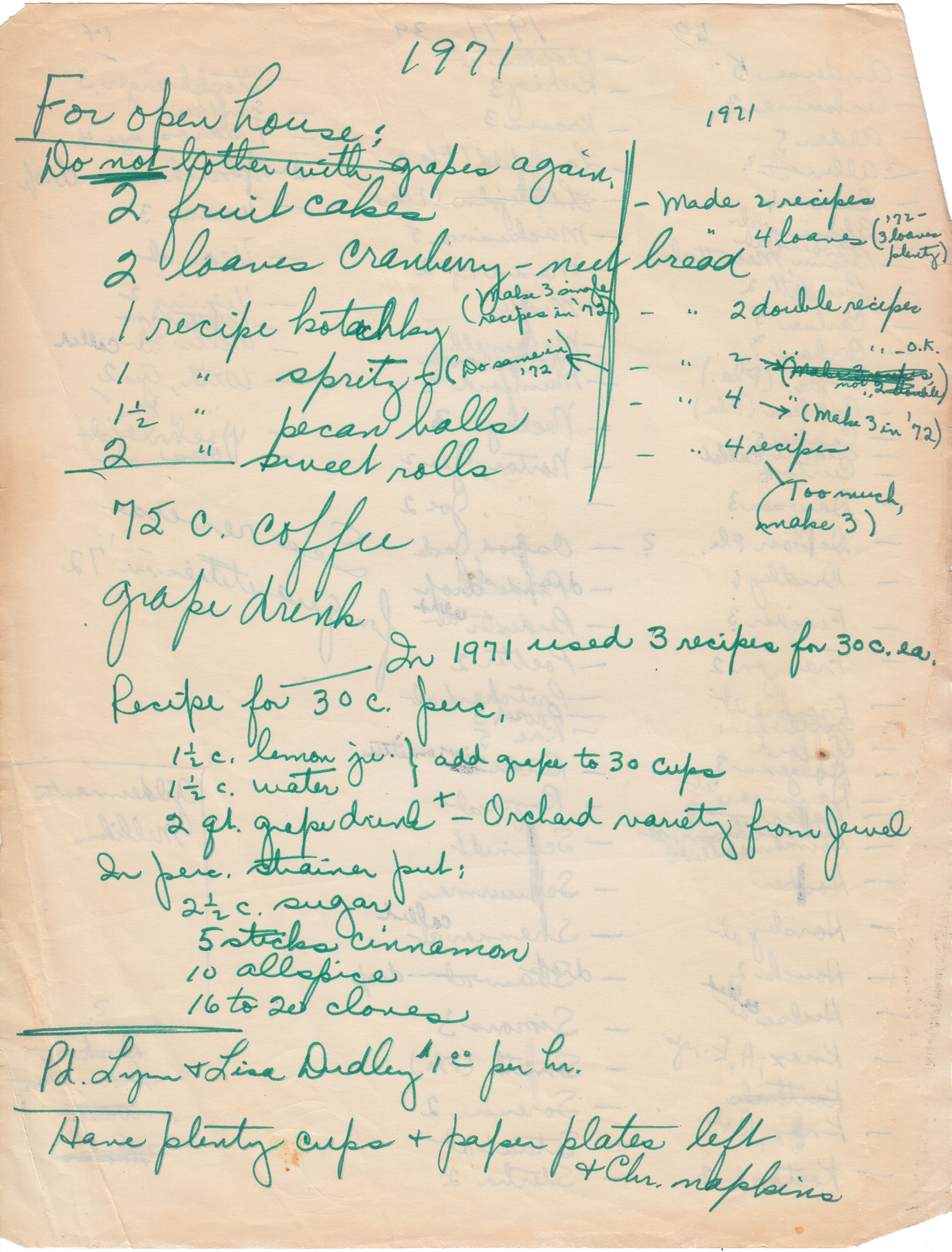 After a rotten week health-wise, it was really nice to be able to celebrate Thanksgiving yesterday with a few friends. The image here is one of Grandma Piper's very many post-party notes, a sort of debrief she wrote to herself about what she made and what she might change next time. This particular page seems to be her neighbourhood holiday open house plan from early December 1971 for around 110 guests (guest list is on reverse). I expect she found these notes super useful, particularly since she seemed to keep every single one of them.
Here's what I made this year, documented for a similar purpose.
Herb-roasted turkey chicken and gravy (loosely based on this Epicurious recipe)
Spiced roast carrots and parsnips (similar to the honey-roasted carrots on this Guardian article but with brown sugar instead of honey, a larger quantity of cumin+coriander, and a little cayenne pepper)
Orange and allspice roasted sprouts (made this up when I realised I'd stuck them in the oven with only salt… took them out and dressed them a bit, end result was something like this recipe minus the walnuts
Cornbread with nutmeg honey butter (see Guardian cornbread recipe)
Fresh cranberry relish (see mom's notes)
Grandma's walnut and rice stuffing (see page from La Grange Presbyterian cookbook)
Roasted garlic mashed potatoes
Cranberry-lime pie (see Bon Appétit recipe)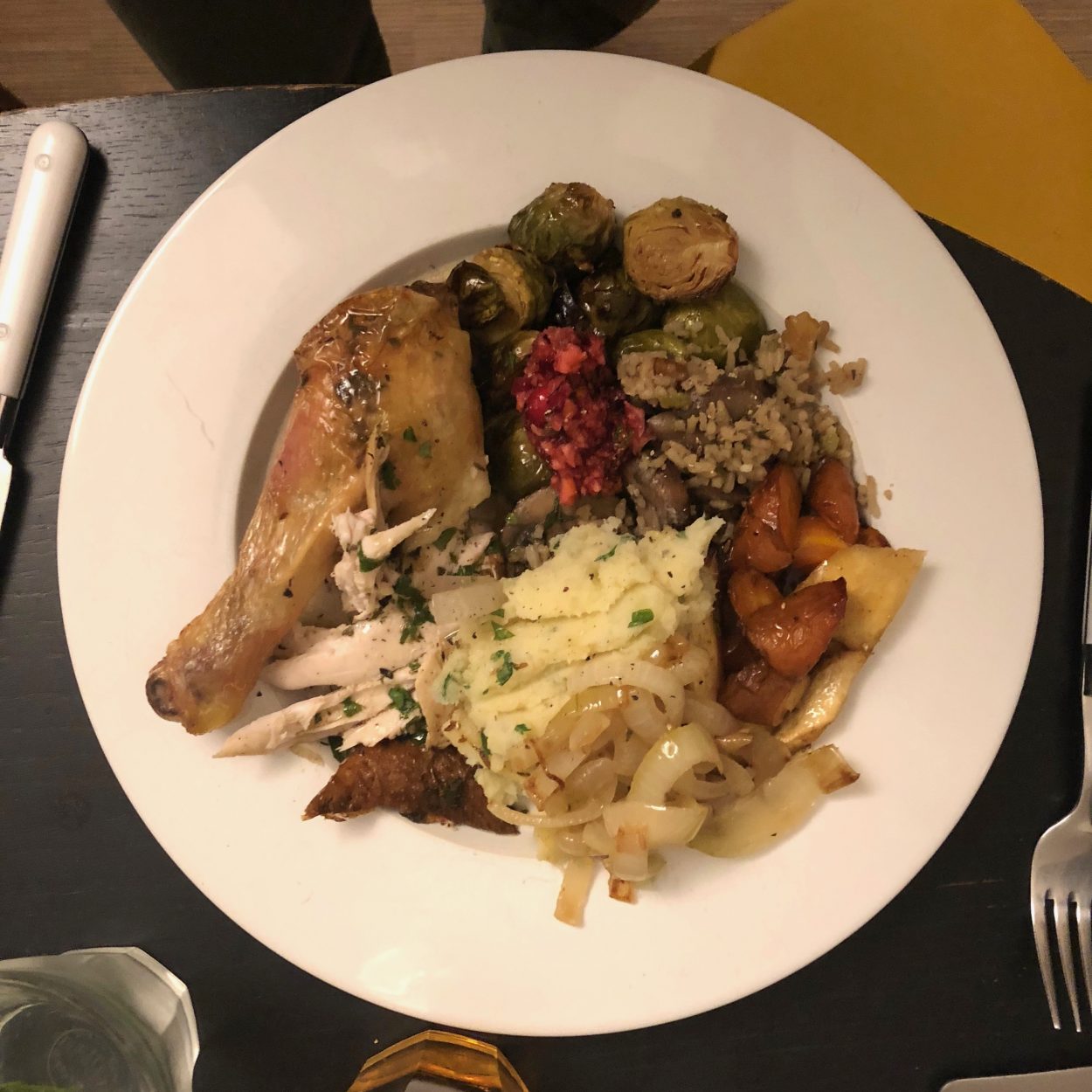 Decided to do a large chicken this time since getting a turkey in the UK in late Nov can be £££ and a pain. We get a 1.4kg chicken from Abel & Cole every two weeks anyways, so I just stuck to that normal schedule. They had fresh cranberries as well which was great luck, so I added two bags to the order as well as a lot of fresh herbs (sage × 2, rosemary, thyme, parsley × 2).
We picked up the rest of the ingredients the morning of. This included: brown sugar, pecans, walnuts, cumin seed (usually have this, we'd run out), a dozen eggs, double cream, oat milk, a pack of gingernut biscuits, limes × 6, pack of sprouts × 2, 500g pack of mushrooms × 3, lemons × 3, onions × 6, and celery. The other major ingredients (potatoes, carrots, one absolutely enormous parsnip) we already had.
I probably got started cooking around 12:30pm and was aiming to eat around 6:30pm. We ate later, around 8pm. This was the order of operations, as far as I can remember:
12:30pm – Turn the oven on as soon as you walk in, sort out the ingredients.
1pm – Start soaking the cornmeal. Make the cranberry-lime pie. During downtime (while the filling is cooling, etc.), chop vegetables for later.
2:30pm – When the pie is done and in the fridge, get the chicken out of the fridge to let it come to room temperature and dry out a little.
3pm – Make the cornbread. While the cornbread is baking, make the cranberry relish and nutmeg honey butter.
4pm – Get the sprouts in the oven on the lowest rack. Wrap up a sliced garlic bulb tightly in tin foil and place on the tray with the sprouts.
4:30pm – Make the stuffing. When done, place the appropriate amount to serve in a roasting tray and the rest in the fridge for leftovers.
6pm – Prep the chicken with the herb butter, then place the chicken in the oven with the instant-read probe thermometer in the thigh. Take the sprouts out, transfer to a smaller tin, pour over orange reduction, and reserve for later. Get the spiced carrots and parsnips in the oven. Get the potatoes boiling.
7:20pm – When the thermometer indicates that the chicken is nearly at the correct internal temperature, remove the garlic from the oven and mash the potatoes with the roasted garlic. Place in a baking tray and cover with foil.
7:30pm – When the chicken is done (check the breast too), take it out and let it rest on a large plate. Get the items that need rewarming (stuffing, potatoes, cornbread) back in the oven. Things that just need heat but not colour should go towards the bottom, or be covered in foil. Make the gravy.
8pm – Serve buffet-style.
A bunch of things that went great and I wouldn't change:
Tweaking Grandma's stuffing recipe a little. It's fantastic as-is, but I struggle to find canned mushrooms and poultry seasoning. I ended up using a lot of fresh mushrooms, a cup of onion, 1.25c rice, a heck of a lot of chopped fresh herbs, enough vegetable bouillon powder to taste, and 1 c walnuts. This made it less rice-y and more mushroom-y, almost meatier. It was great, and has made really good leftovers.
Keeping the stuffing out of the bird. Also keeps it vegetarian for veggie guests (if using vegetable bouillon powder).
Keeping the herb stalks for the next day's stock.
Straining the fruit puree for the cranberry-lime pie.
Using oat milk for the mashed potatoes (been trying to cut back on dairy). Tasted 100% the same as if using normal milk.
Adding fresh mint to the cranberry relish.
Placing 1-2 thinly sliced onions on the pan beneath the chicken. This was mostly for aroma and to make sure nothing burnt to the base, but also ended up frying them while making the gravy and they were super tasty.
Making chipotle beans from the stock made from the carcass and the leftover chicken. And a fruit salsa from the cranberry relish with the addition of finely-chopped onion, salt, coriander powder, and fresh chili.
Having ppl bring games. Pik-A-Stik is great.
Having a big pause for drinks/games between dinner and dessert.
And things I'd do differently:
Keep more of the veg detritus (onion skins, carrot peels, celery ends, etc.) for the next day's stock. Just make sure it's clean, and probably throw away anything cruciferous.
Get the carrots in the oven a little earlier.
Read the cornbread recipe a little more thoroughly… I royally screwed this up. A tad dry, nothing a little lot of butter won't fix. A quick internet search says there are lots of ways to use up leftover cornbread though, so it's all good.
Maybe make a more traditional pie? Not sure. I really, really loved this pie. It was really tasty and the tartness is nice after a big meal, but that same tartness also makes it less more-ish than a pecan pie (my traditional fave). The other thing is that this pie is WAY more work that it seems… Definitely takes longer than knocking together a pecan pie, partly since getting the curd to the right consistency is a little more nerve-wracking.
Make the pie the day before, regardless of what type it is. For pies that are best served warm, reheating in the oven works totally fine. It was a little intense trying to make this the same day as everything else.
Check the weight of the bag of cranberries! I ran out and had to supplement the pie with frozen mixed berries (a decent substitute though) and couldn't do the pie topping. 🙁
Would love to do a bigger Thanksgiving dinner for more friends next year. But we'd need a bigger place! Five was the absolute max for our little round table. At any rate it was lucky that it was a small group this time round, it would have been a little much to handle considering the prior week.
Almost everyone had seconds so there was definitely plenty of food. We polished off the sprouts, carrots and parsnips, and mashed potatoes. Leftovers included a bit of the darker meat from the base of the chicken, about half of the cornbread, 1/3 of the cranberry relish, about half of the stuffing, and a little less than half the pie.
---
Next week is looking not fantastic again on the health front. So frustrating, and more than a little stressful when you're self employed. At least there's leftovers?